Weathering Steel:
This material is a special, low alloy steel that forms a oxide matrix on the surface that prevents further rusting under certain conditions. Officially called "Atmospheric Corrosion Resistant Steel", we refer to it as "weathering steel". For our type of bridges, "weathering steel" can be the perfect option in most cases. This is because it provides a nearly maintenance free and natural looking finish. Some people are fooled by the finish and believe many of our structures are actually fabricated from wood. Although this type of steel costs slightly more than normal mild steel, the "weathering steel" bridges are typically 20-30% less expensive than other options because properly done coatings are costly.
Weathering steel begins rusting like all steel.

Years later there is no noticeable deterioration.
Color: The color and variegated patina of weathering steel depends upon the pH of the local dust and rain. It develops over years and varies from grayish to shades of brown, black, red and dark purple. Damage to the finish will self heal over time. Notice the fine grain and tight adherence of the rust. This coat will typically stop at about 6-8 mils thick.
Cannot be used everywhere: Weathering steel is NOT APPROPRIATE for the extremely humid or in close proximity to coastal waters or other corrosive environments such as near chlorinated pools, brackish rivers, etc… This steel must go through many wet/dry cycles before the protective layer develops.
Restrictions: Weathering steel must be freely exposed to the air on all sides; abutment designers must keep this in mind to prevent areas that may entrap debris and moisture. If portions are buried in soil or covered in vegetation or exposed to corrosive elements, (most notably winter salting of walkways), it will deteriorate much more rapidly.
Rust runoff: Weathering steel will cause rust staining on concreted decks and sub structure. Sometimes concrete dyes are used to mask the stains. Other options are water diversion methods or silicone treatments to minimize staining during the early years when oxide run off will be the heaviest.
Called: Often specified as M270 by AASHTO. ASTM numbers for tubes plates and shapes are A847, A588, A242, A709 and A606. Bolts for splices are usually A325. Corrosion index is usually specified at 5.8. COR-TEN® is the U.S. Steel brand of weathering steel, due to it's brittleness COR-TEN® is almost never rolled into tubes.
Please call for an accurate estimate (800) 548-0054 or use our web form for a quick budget price.
Web sites with technical data:
Painting:
For beauty or corrosion protection, epoxy coatings are commonly used on these structures. Nearly any coating system can be provided by Excel, please call for discussion.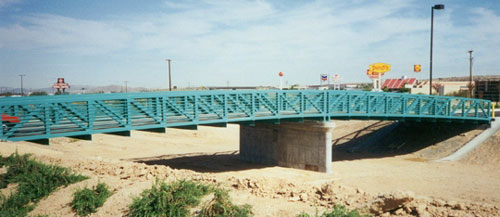 Painted Bridges:
Typically costing between 10% – 30% (depending on bridge size and paint system) more than weathering steel, painted bridges require periodic inspection, repair, and sometimes blasting and re-coating after many years. Paint manufacturers all agree that paint life is dependent upon material preparation, proper mixing of primer and paint, and correct application. Be sure you choose a supplier that has significant experience with painting bridge structures such as Excel to avoid a greater potential of issues down the road.
Weathering steel can be painted just as with regular steel. No formal research is known to exist regarding the benefit of using weathering steel under paint, but field observations indicate that painted bridges using weathering steel may last longer. Paint film injuries seem to self seal rather than bubble and expand. One rational