You need design drawings on time
You need drawings approved the first time
You need the bridge delivered on time
You need the bridge to be built to the specification
You need to build the abutment to fit the bridge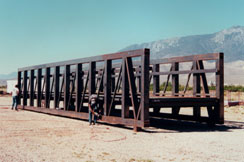 Excel Bridge will take the lead to create an "on time" attitude with all parties involved. Excel will be on the alert, even before the award of the contract, for issues that may slow your project down and we will keep you informed.
Please call for an accurate estimate (800) 548-0054 or use our web form for a quick budget price.
Communication by faxes, phone calls, FedEx, and e-mail
From you to Excel Bridge
From Excel to the engineer/architect
From engineer to Excel
From Excel Shipping manager to you
You, the contractor, need to also do your part by informing Excel about your deadlines, site limitations, lane closure rules, or any other issues affecting delivery.
Excel will call you 1-3 weeks before delivery. Call Excel if you need more lead time.
The goal is NO SURPRIZES. But should a truck breakdown, or if there is bad weather, or if government interference causes a delay, Excel will call you as soon as we know. Please be sure we have your cell and all other numbers for emergency contact.